WE BUILD, WE CREATE, WE DANCE, WE DELIVER, WE WRAP
You need it when? No problem!

Our services include:
• Creation of art work and graphics
• Bottle wraps
• Prototype mock ups
• Specialty Packaging
 
From concept to "in hand" final packaging sample, UltraComps staff of designers and
production people can give you any kind of prototype for you and your client.
We produce unique packaging prototypes from your digital files, or from your ideas.
And, we do it quickly and efficiently...and we're local! Whatever you need to help sell your idea.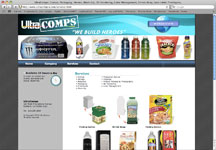 Visit us at
www.ultracompsla.com